Happi Magazine – April 2012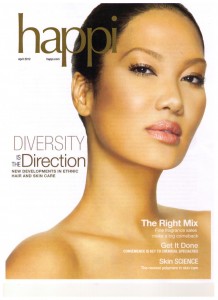 New developments in the ever-evolving ethnic hair and skin care marketplace
Melissa Meisel • Associate Editor
Locs, twists, braids, curls … the ethnic hair care market is constantly expanding with products that cater to a multiplicity of styles. Factor in assorted demands from African American, Hispanic, Asian and Indian skin care consumers—not to mention makeup shades to complement a mixture of tones—and there's many, many facets of this burgeoning beauty melting pot.
Sales of ethnic personal care—including African American hair care, Hispanic and other hair care, African American shaving products and ethnic skin care products—in food, drug and mass-market outlets (excluding Walmart) rose 4.8% to $250.8 million for the 52 weeks ended Jan. 15, 2012, according to data from SymphonyIRI Group, a Chicago-based market research firm. African American hair care, the bulk of the marketplace, rose 4.8% to $202 million while Hispanic and all other hair care increased 3.7% to $3.6 million. African American shaving product sales climbed 3.3% to $4.7 million (with the Magic brand taking the lion's share at $3.6 million in sales) while skin care SKU sales increased 4.8% to $40.4 million (led by Palmer's Cocoa Butter Formula at $28.1 million in sales), according to SymphonyIRI.
According to Mintel, in its August 2011 report "Black Haircare in the US," the success stories in FDMx ethnic hair care are the companies found in the "other" group. These are brands that are newer to the market and lack the history of the larger marketers, but are making an impact with consumers. Brands like SheaMoisture and Miss Jessie's, which have a strong following through online and salon sales but have only broken into the FDMx market in the past two years, have growing availability through select Target stores. SheaMoisture, which once was available only through select Target locations, can be found at all Walgreens and Duane Reade drug stores, as well as online at each of these retailers. Hair care blogs and video logs (vlogs) on YouTube have helped to spread the word about these brands and rejuvenated a category that many FDMx retailers (and consumers) might have seen as dying out, also noted Mintel in its report.
In the US salon hair care market, ethnic products have grown "very poorly" during the past five years, at only around an average of a half percentage point, according to Cyrus Bulsara, president of Professional Consultants & Resources, a full-service strategic consulting and data supply company specializing in the beauty, salon and cosmetics industry based in Plano, TX.
"This is mainly due to the great popularity of natural or 'fro styles, braids, dreadlocks and hairstyles that do not require relaxers, curls-perms or large quantities of hair care products," he explained. "In the past, chemical services were the major growth drivers of hair care products. Now, Afro-centric ingredients, natural oils, sheens and braid sprays are popular."
As for the turnout in the mass market by way of skin care, Mintel noted in its report, "Blacks and Personal Care – US – March 2011," African-American consumers are more willing to purchase less expensive brands or store brands for some categories, such as disposable and nondisposable razors, and are "totally unwilling" to do so for hair care and skin care products. Because the category includes personal care services, it is likely that consumers are cutting back on barber and beauty salon visits in the tough economy.
And then there's the Hispanic marketplace, which has been on the upswing in recent years. According to "Hispanics and Personal Care – US – January 2011" from Mintel, when spending is measured by consumer unit, Hispanics have consistently spent more on personal care products during the past six years. Their larger than average household size keeps their spending high and expenditure on personal care for 2010 is estimated to dip a meager less than 1%. Hispanics also indexed higher than non-Hispanics in purchases of personal care products in 2009. What is driving this number is their high usage of hair care products and bath products, said Mintel in its findings.
Star Power
It's great to match a face to a name—but even better when it's a superstar actress, supermodel or other Hollywood talent linked up to a beauty collection, as seen with a variety of recent rollouts in the ethnic skin and hair care marketplace.
One of the biggest launches of the past year was at CVS/pharmacy with its exclusive beauty collection, Nuance Salma Hayek. Developed together by actress Salma Hayek and CVS/pharmacy, Nuance Salma Hayek is a comprehensive collection of more than 100 products within four categories—skin care, cosmetics, hair care and body. Prices range between $2.99 and $19.99.
The first complete beauty line developed by an actress in partnership with a national retailer, Nuance Salma Hayek was inspired by Hayek's grandmother, a cosmetologist who developed her own homemade beauty remedies. Products are said to represent the fusion of advanced, proprietary formulations and personal beauty rituals passed down from generations.
Many ingredients, such as tepezcohuite, blue agave, prickly pear and lime enzyme, are being used in exclusive beauty formulas available to the mass market for the first time, according to the retailer.
"CVS/pharmacy's leadership in beauty for the past decade has been demonstrated by a long list of first-to-market innovations for our beauty customers," said Mike Bloom, executive vice president of merchandising and supply chain for CVS/pharmacy. "Our partnership with Salma Hayek in creating a premium beauty line that is accessible to all women takes our beauty leadership and innovation to the next level. We are proud to introduce this highly-anticipated line, Nuance Salma Hayek, exclusively to CVS/pharmacy customers."
Also reaching out to the Hispanic audience, Neutrogena has signed Mexican actress and recording artist Sandra Echeverria as its newest US brand ambassador. One of today's leading Latin stars joins fellow beauty icons Miranda Cosgrove, Jennifer Garner, Vanessa Hudgens, Diane Lane, Hayden Panettiere, Emma Roberts and Gabrielle Union as the latest member of the Neutrogena family.
"We're excited to have an international talent like Sandra join our family to help further bring to life our 2012 multicultural initiatives," said Susan Sweet, general manager, Neutrogena.
From the media domain, a variety of television and music celebrities are collaborating with ethnic and skin care companies to create products or front campaigns. For example, La La Anthony, entertainer and star of VH1's "La La's Full Court Life" has teamed with the Motives by Loren Ridinger cosmetics line to create Motives for La La, a line of makeup uniquely-formulated for every shade of today's modern woman, according to the company. Motives for La La includes mineral base lipsticks, blushes, lip shines and more "for women of every shade."
"Having my name on a cosmetics line has always been a dream, one I'm excited to share," Anthony said."Every girl always tries to find that perfect color or shade that suits her personality, and now she can do it easily and affordably."
Capitalizing on the success of its award winning-line of Shine 'n Jam conditioning gels,Ampro Industries Inc.recently extended the line to include Silk Edges, a version of the product whose ingredients include 100% olive oil and silk protein, according to the company. Silk Edges' advertising campaign features the brand's celebrity endorser,Toya Wright, of BET fame. The starlet tells followers via her Twitter account, @ToyaWright, that she "prefers to use the product when smoothing the edges of [her] natural style."
Catering to the fashion crowds, designer diva Kimora Lee Simmons is rolling out a nine-item prestige skin treatment line called Shinto Clinical, which is said to blend elements of Eastern and Western cultures. The line includes ingredients such as fish oil, pearl powder, omegas, beta glucan, mushroom and wakame kelp extract. According to the company, Simmons spent two years working with New York dermatologist Eric Schweiger to develop the line, which includes an anti-aging moisturizer, anti-wrinkle serum, eyelash enhancer, pore minimizer, microdermabrasion cream, skin lightening product and anti-aging cleanser. An anti-cellulite cream, Hold It Tight, will be launched later this year. The line debuted on QVC on Feb. 24 and the retail rollout started in early March, consisting initially of Nordstrom and Fred Segal plus the Shopping Channel in Canada.
Supermodel Beverly Johnson, the first African-American model to grace the cover of *Vogue, launched two new lines in select Target stores nationwide in late February. Model Logic by Beverly Johnson is a multicultural line of seven hair care products geared toward women and men of all ages.
"Having worked so long in the fashion and beauty industries, many of the products that were used on me while I was modeling were more than just your average lipstick or shampoo," said Johnson. "I learned how they were formulated and what products were the most beneficial for both women and men of color in terms of styling but also restoration. Thanks to this experience, I would say that I've become a multicultural expert and leader for beauty and hair products that are top-notch and that serve our specific beauty needs."
The products are based on formulas that Johnson has used for years, according to the company, with unique blends of emollients, botanical extracts and vitamins at an affordable pricepoint ranging from $12.50 to $25.
Another supermodel, Iman, is expanding her beauty empire with Somali design duo, Mataano, who have signed on as the makeup and skin care collection's brand ambassadors. To kick off the partnership, Iman Cosmetics was the lead sponsor for the twin designers' Fall 2012 runway show at New York Fashion Week.
"It's an honor to represent and have the support of a makeup giant like Iman Cosmetics. The brand is about providing options for all different shades of skin and acknowledging and addressing variety in beauty and cosmetics," said Mataano's co-founder Idyl Mohallim.
The latest new SKU in the Iman Cosmetics collection is a Luxury Translucent Powder enriched with an exclusive skin-enhancing micro-mineral medley that contains copper, zinc, manganese, potassium, iron and mica, which work together with natural pigments to enhance the skin's tone and texture, according to the company.
At P&G, Sanaa Lathan was named spokesperson for the Pantene Nature Fusion collection, which combines the brand's Pro-V formula with "nature's own" cassia to infuse hair with strength and shine.
Texture Takes Over NY Fashion Week
Kinky, curly and wavy hairstyles took over City Winery in New York City for the first ever Texture on the Runway, a showcase of styles created exclusively for textured hair, hosted by TextureMedia on Feb. 11. Creative teams from leading hair care brands Arrojo, Curls Unleashed, Hair Rules, Matrix and Minardi Luxury Color Care joined together to display a new era of styling for curly hair types.
"This is 14 years in the making…when I started NaturallyCurly.com, there were only a handful of products that dealt with curly hair and only a handful of stylists who were willing to work with curly hair," said co-host Michelle Breyer, co-founder and president of TextureMedia. "Now, every month, 1.5 million stylists visit the site to talk about their hair. TextureMedia wanted to take that conversation that's happening everyday online and bring it here—and what better time to do it than Fashion Week, because texture IS fashion."
Each of the presenting brands sent a handful of models down the runway to show off a wide range of styles, all of which were then followed up with a presentation by their lead stylists. Nick Arrojo and his creative director Amanda Jenkins introduced the audience to their new American Wave System. Curls Unleashed director of education Reginald Mitchell got the crowd excited about letting their curls free, while Hair Rules creator showed off 1970s inspired full waves. Matrix creative director Nick Stenson took a step back in time when he put a modern spin on Victorian-era styles and Mark Mileti, color director of Minardi, whipped up "classic-modern" avant-garde looks to show how extreme color and curls could work together.
A Treasure Trove for Tresses
"Since African-American hair is very dry, it is important to add moisture to hair by using products that either preserve or add moisture to hair and to avoid hair styling regimens that can remove moisture from the hair," said Dr. Raechele Cochran Gathers, FAAD, senior physician at the Multi-Cultural Dermatology Center of Henry Ford Hospital Department of Dermatology in Detroit, in a report from the American Academy of Dermatology's 70th Annual Meeting last month.
For example, new to the market is the latest formulation from the "trichological experts" at Philip Kingsley: Moisture Extreme Shampoo and Moisture Extreme Conditioner for ethnic hair. This innovation specifically addresses the styling, processing and nourishment needs of ethnic textured hair, which is particularly vulnerable to damage. Moisture Extreme, now available in 1000ml bottles, provides the perfect amount of hydration for ethnic hair, which is often low in moisture content and lacking in elasticity, according to the company. The formulations' nourishing properties lower the surface tension of hair to reduce breakage and protect against friction, leaving hair soft and shiny.
Moisture Extreme Shampoo combines thorough and mild cleansing to remove styling and conditioning products without stripping the hair of its natural oils. Key ingredients include sodium cocoa butter amphoacetate, a mild detergent derived from cocoa butter that gently cleanses, moisturizes and conditions with little foaming, guar hydroxyl propyl trimonium chloride for conditioning and foam density and oligoquat M, for moisture-binding properties, according to the company. The Moisture Extreme Conditioner contains naturally-derived oils that work together to condition the hair from the cortex to the outer layer, leaving it shiny and frizz-free. Key ingredients are almond oil, wheat germ oil and avocado oil.
Shoppers are also looking for ethnic hair care products that can be personalized for them, noted Mezei Jefferson, senior manager of education, SoftSheen-Carson, New York City.
"Gone are the days of 'one size fits all' in hair care. They want products that work as they say they do and are made for their specific hair type," he told *Happi. "Natural and healthy products are also a must; consumers want to make sure products are not going to cause damage to the hair and will help promote growth."
For example, in launches to be revealed later in the year, efficacious ingredients such as coconut oil, shea butter, jojoba and argan oil are on the menu at SoftSheen-Carson, said Jefferson.
With more consumers embracing curly textures, the need for treatment and styling products designed to preserve and enhance one's natural hair is at an all-time high, according to ethnic hair care brand Dr. Miracle's, which has introduced its new Curl Care collection, its first-ever specialty range designed specifically to treat and maintain kinky, curly, and wavy hair. The line boasts Dr. Miracle's honey and vitamin complex formula, which promises to help hold curls for up to 12 hours. Key nutrients, vitamins and proteins vital to hair health, including jojoba, coconut and safflower oils, aloe and panthenol, also were infused into each formula to moisturize, condition and define curls. The collection, which arrived last month at local drug chains and beauty supplies stores, includes a shampoo, conditioner, frizz control serum, hold crème, moisturizing crème and leave-in conditioner.
At the Winter 2012 Bronner Brothers Hair Show held in Atlanta,Design Essentialslaunched its newStrengthening Therapy System, which features a suite oftrailblazing products designed to revolutionize options for healthy hair care, according to the company. This amino acid thermalreconditioning range enables women to transition fromrelaxed to natural or completely natural.
New Strengthening Therapy Systemis dividedinto four SKUs that focus on strengthening the hair while yielding straight, silky, smooth resultswithout permanent chemical alteration:Cleansing Sulfate Free Shampoo,Transitioning Mousse, Elongation Mousse and Silkening Spray.
"Stylists are seeing frustration from clients who are transitioning and want to avoid the 'BigChop' due to multiple textures; clients who are natural and are seeking manageability and curl definition;and clients whose hair is weakened or chemically altered and are experiencing breakage," saidTraceyGibson, director of marketing, Design Essentials, Decatur, GA. "We can address each of these groups with a singlesolution in the form of Strengthening Therapy, which will straighten and smooth transitioning hair,enhance curl definition and maximize curl length and restore chemically treated, damaged or weakenedhair.
A new contender in the ethnic hair care marketplace is Kosher Kurls of Los Angeles. The product, a leave-in conditioner designed to accentuate curly hair textures, is a spin-off SKU from an artsy apron company. It contains jojoba oil, safflower oil, primrose oil, wheat amino acid and hydrolyzed collagen (marine), to name a few ingredients.
Company president Davida Lampkin Tydings told *Happi, "People are looking for products that will make them look and feel better. Kosher Kurls gives this to them and also gives them a product that is made in the US. Kosher Kurls controls the frizz and defines the 'Kurls.'"
But is it really kosher?
"Sometimes people want to know what makes Kosher Kurls kosher. I tell them that it is just a play on words, and that it will work better on your hair than in their stomach!" said Lampkin Tydings. "But you don't have to be Jewish to love Kosher Kurls. Back in the 50s and 60s there was a company called Levy's Jewish Rye Bread. Their saying was that you don't have to be Jewish to love Levy's! It worked for them, so I hope that it will work for us. You can be woman, man, child, black, white, or any nationalitiesor color,Kosher Kurls is the universal answer to beauty."
Fellow curly hair proponent Ouidad has expanded her product offerings sold at Sephora, Ulta and other locations with the new Ouidad Climate Control Frizz & Flyaway Fighter, a taming shine spray designed for all hair types. This lightweight and non-greasy finishing product is the newest addition to Ouidad's line of Climate Control products, which also includes shampoo, conditioner and styling gel. Flash dry fruit oils—olive, avocado, and grape—leave a non-greasy, finish on locks.
Additionally, DevaCurl, another popular curly hair care brand sold at Soho's Devachan Salon in New York City, is rolling out a new styling gel and creme for Spring 2012. Alcohol- and silicone-free, the SKUs contain humectants and nourishing ingredients to protect hair against outside elements, according to the company. Once applied, the styling gel will harden, and when dry, the cast is released and the result is defined curls.
"The hottest ingredients are coming from the Brazilian rainforest such as capapoa, yucca and tapioca starches are found in all DevaCurl styling products," Lorraine Massey, DevaCurl founder and co-owner of the Devachan Salon. "These starches replace harmful plastic resins which are found in most shampoo cleansers on the market."
In mass, Palmer's expanded its Olive Oil offerings with Formula Super Control Edge Hold Hair Gel and a No-Lye Relaxing System. Both contain Palmer's Organi-Gro, a blend of nettle, sage, hyssop and, of course, olive oil. Meanwhile, L'Oréal added a Butter Blend HG relaxer to its Mizani line. Developed with the signature moisturizing Butter Blend ingredients of shea butter, cocoa butter and honey, Butter Blend HG is formulated with less sodium hydroxide to minimize scalp irritation and leave hair stronger, more manageable and less prone to breakage or thermal damage. It is available in two formulas—Mild, for minimal/moderate curl reduction; and Normal, for moderate/maximum curl reduction.
Jane Carter Solution unveiled the latest addition to its line of natural hair care products: the Natural & Curly Hair Essentials Kit at Target and Rite Aid. The kit contains the line's six essentials to treat curly locks: a Hydrating Invigorating Shampoo SLS-Free, Nutrient Replenishing Conditioner, Revitalizing Leave-In Conditioner, Wrap & Roll, Curl Defining Cream and Nourish & Shine.
Skimming the Surface
Skin care customers tend to prefer products rich in natural emollients such as shea, cocoa and mango butters, olive, avocado and sweet almond oils, noted Funlayo Alabi, president, Shea Radiance, Columbia, MD.
"These products are desired because they deliver moisture and conditioning that can be immediately felt on the skin," she told *Happi.
"Shea butter is a staple in ethnic skin care, especially shea butter that has not passed through the refining process before being used as a cosmetic ingredient."
Pure, unrefined shea butter is said to be high in bio-actives, vitamins and sterols that provide long lasting moisturizing benefits to the skin. Shea Radiance Whipped Shea Butter and Ultra Rich Creams are rich in shea butter and feature a cocktail of rice bran, coconut, avocado, hemp and castor seed oils. The products are sold at Whole Foods.
New Company Focuses on Multi-Cultural Sun Care
As the self-proclaimed, first multi-cultural focus company for sun protection, Extrashade of Brooklyn, NY recently debuted Sun Protection for Rich Complexions SPF 30. According to the company, it offers uniquely photostabilized sunscreen combined with hydrating naturals and anti-aging botanicals.
The term "Rich Complexions," coined by Extrashade, refers to those who have extra melanin from olive, brown to dark brown and other exotic shades in between.
In the formulation, hyaluronic acid hydrates, while white ginger and passionflower soothe inflammation and soften the skin. Vitamins C and E help strengthen and add radiance, while soap bark, coconut and plantain extract help heal wounds, hydrate the skin and fight free radicals. Pomegranate and kiwi fruit extract act as antioxidants, calming inflammations and fight visible signs of aging.
Specific Beauty's new Professional Moisture Complex is a patented, paraben-free cream that hydrates, calms, soothes and brightens the skin, according to the company. Formulated with ceramides, this technology helps to restore the skin's moisture protective barrier. With no added fragrance or dyes and ingredients like vitamin E and lavender, this moisturizer is ideal for all skin types.
Category leader Palmer's is looking to "get even" with its new Cocoa Butter Formula Eventone Fade Cream. This potent "daily tone correcting moisturizer" is said to tackle even the most stubborn dark spots. The product is said to address hyperpigmentation by combining Palmer's trusted quality cocoa butter with the new Tone Enhancing Complex, a combination of cocoa butter, Synovea, soy, niacinamide, vitamin C and licorice extract. Lightening agent 2% hydroquinone rounds out the mix.
L'Oréal Paris taps into the color cosmetic/skin care hybrid trend with 14 "new and improved" shades of its True Match Super-Blendable Makeup. After seven years of extensive research, collecting skin tone and texture data from thousands of women representing 57 different countries, L'Oréal Paris developed these new global-inspired shades so that now, more than ever, there is truly a perfect shade for all women, the company said. True Match Super-Blendable Makeup now offers a range of 33 lab-developed foundations (in levels 1 to 10) that represent the universe of skin color and are guaranteed to match 100% of all skin tones.
CoverGirl and Olay joined forces for CoverGirl Tone Rehab 2-in-1 Foundation, the newest creation where makeup meets skin care. This anti-aging liquid foundation combines the newest advancements in beauty and skin care that covers fine lines, discolorations and wrinkles and, in time, helps improve skin tone, said the company. The Olay serum contains a moisturization package featuring skin-conditioning ingredients like glycerine, niacinamide and N-acetyl glucosamine, while vitamin E, allantoin, panthenol and green tea help protect skin from harmful free radicals at the surface. The shade palette covers light to deep skin tones and has been revamped with a balance of cool, neutral and warm undertones to "beautifully meet the shade needs of all women," said the company.
CoverGirl's Queen Collection also recently debuted Lasting Matte Pressed Powder in a variety of lightweight shades providing fade-resistant, natural coverage that lasts for hours, according to the brand.
The forecast for Spring 2012 is bright and bold with warm hues dominating, sources at Black Opal told *Happi. Therefore, its new "Be A True Lady" Spring/Summer 2012 collection defines wearable seasonal trends for women of color. Eyes are the focus, with eyeshadow singles in a brilliant pop of juicy, citrus-infused colors including a bright orange and vivid yellow. For lips, a bright coral pout complements darker skin tones while delivering all-day color.
A Bountiful Outlook
The trend for ethnic skin and hair will continue to focus on natural based ingredients because of their efficacy, noted Alabi of Shea Radiance.
"As more women begin to embrace their natural hair textures, the need for natural based products that support the many ways that women style their hair will continue to grow. Products targeted for braids, locks, twists, blow-outs, waves and curls will be popular," he explained. "Hair care products that target common hair concerns such as breakage and growth, maintaining health, imparting sheen and embracing and enhancing ones natural hair will also increase in popularity."
Women are going natural every day, so the industry is seeing more treatments to lock in moisture and shine, observed Jefferson of SoftSheen Carson. "Hair color can be damaging to any hair texture, so applying a protein treatment to keep hair healthy and strong before and after coloring process is a must," he said.
"Frizz is hair begging for moisture. By allowing hair to experience amazing ingredients and understanding the nature of your own hair is true curl freedom," agreed Massey of DevaCurl. "Your hair is with you for life, you don't take it off like a dress. Treat your hair as though it is the most prized fabric you will ever own and you will see a remarkable difference in how it looks and feels."